Nginx proxying to docker inside nat
A few scripts I put together to do some things on proxmox
A few weeks ago I bought a new phone, the Moto G6. It runs Android 9 and has a 8 core snapdragon cpu, 3gb of ram, 32gb of internal storage. All for like $80 on sale from TracFone. I've got most of my apps installed, could be some I'm missing though. Far better than my old LG phone. :) It seems to have some sort of oled display and depending on the app, black is really black.
Putting this here for future reference from future me if he thinks to look here. Heeey! It'sa me, your past. :) Copied the contents of one disk formatted with XFS to another bigger disk with XFS using Rsync. rsync -arvluht -pog -P /media/Source/ /media/Destination/ Breakdown of the switches; -a for archive -r for recursive -v for verbose -l for links -u for update -h for human-readable -t for preserving times -p for preserving permissions -o to preserve ownership -g to preserve group -P to show progress
Yesterday I decided to try something different on my lab server. I just got tired of the limits of ESXI with it's free license. Was gonna put it on another flash drive but after trying and experiencing the excruciatingly slow install of the Citrix Xenserver onto a flash drive only to be left with no webui to manage it, I ended up putting proxmox on the 1.2TB 4 disk RAID-10 array.
Givin up on windows for now
Using redshift to automatically change the monitor's temperature color
Tech update: Some time ago, I purchased a bluetooth audio transceiver that mostly went unused till I had the idea to use it for my phone and run ear buds off it since the headphone jack on my phone became iffy, the left audio channel would cut in and out if the plug moved ever so slightly. The device was sold by Anker on Amazon for I dunno, 28 bucks. A tiny thing, fits in the mini right pocket of my jeans.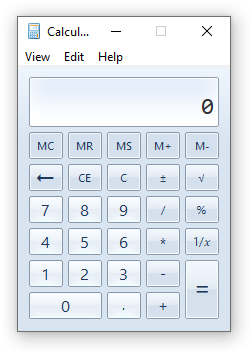 Here's a little program I found on the net cause I liked the old calculator better. The Win10 calculator app just doesn't do it for me. Frequently opens up all big and taking up 1/3 of my screen and feels slower to start. The old one is fast, light, and has a smaller UI. :) Download Link (889KB)